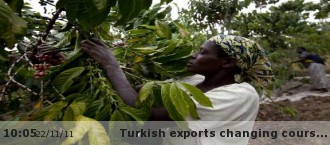 Business opportunities in the heart of Africa are attracting Turkish exporters who have been hit by the turmoil in countries on the northern end of the continent. 'Many Turkish investors are now exporting to countries that they couldn't even locate on a map a few years ago,' says a professional. Turkish exports to the region have increased more than 2.5-fold in the first quarter of the year
The social unrest in North Africa, a traditional market for Turkish businesses, has resulted in a new destination for the country's exports to the continent as local firms increasingly turn to sub-Saharan Africa, professionals said.
Turkish export to sub-Saharan African countries skyrocketed to nearly $1.25 billion by the end of first quarter of this year from $478.5 million in the same period of last year, according to official figures.
"We have been sleeping for so long and now we are aware of the opportunities that lay in the heart of Africa," said Tamer Taşkın, the chairperson of Turkish-African Business Councils at Foreign Economic Relations Board of Turkey, or DEİK.
Noting that Africa's total export volumes has peaked up to nearly $500 billion annually, Taşkın told the Hürriyet Daily News during a recent phone interview that Turkey's exports to the continent still remained considerably at nearly $10 billion.
"Turkey could increase exports to Sub-Saharan countries in search of decent products for affordable prices," he said.
"The Turkish government's foreign policy in Africa has also bridged the investors from Turkey to Sub-Sahara," he also said, adding that Turkish products were appreciated there as top quality European products.
Turkish Airlines supported the Turkish businesses there by increasing the number of its direct flights to the continent to 25, according to him.
"We aim to increase our export product range and volume to Ghana," said Pelin Güneşoğlu, head of the Turkish-Ghanaian Business Council formed only two months ago. Noting that some Turkish firms penetrated into the country only few years ago, Güneşoğlu said there are more firms planning investments in infrastructure, hospitals, schools and energy in the country.
According to her, Turkish firms have recently begun to eye the opportunities to start up refineries in the country, which recently discovered nearly 800 million barrels of light crude oil reserves. The country is expected to increase its public spending into substantial health, education and infrastructure projects.
Aiming for the lion's share in the pie in the long run on the continent, Taşkın said DEİK has formed seven new business councils: Nigeria, Tanzania, Uganda, Angola, Ghana and Moritanya that sums up to 15 African business councils all together.
Confederation of Businessmen and Industrialists of Turkey, or TUSKON, another foreign trade organization in the country, actively organizes events both in Turkey and sub-Saharan countries to enhance economic ties.
"Turkish business delegations trips to Congo, Cameron and Tanzania started to bare fruit this year," the chairperson of TUSKON, Rızanur Meral, told the Daily News. "Turkish exporters are doing business with countries that they couldn't even find on an African map a few years ago."
Turkish exporters' concerns on security and health were washed away with investment and trade opportunities, Meral said.
Having the third biggest oil resources in Africa, following Libya and Nigeria, Angola ranks as the 6th biggest export market on the continent for Turkey with nearly $109 million. Angola's economy is highly dependent on the oil sector, which accounts for 40 percent of the gross domestic product and 80 percent the government's revenues. In recent years, Turkish firms started to eye the country's infrastructure projects.
Turkish investors have also started eyeing investment opportunities in Mauritania, which has approximately 860 million tons of iron ore reserves. The country's vast agricultural lands are also attracting Turkish manufacturers of agricultural equipments and tractors.
"Our goal is to support the economic development in Uganda," Turkish State Minister Bülent Arınç said at December meeting in Kampala, in the capital city of Uganda. Noting that Turkey might sign a free trade agreement with Uganda, the minister also noted that Turkish firms had recently won contracts for projects valued up to $31 billion there.