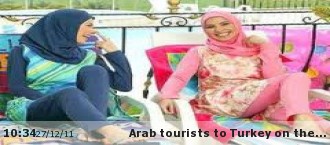 A new study by Turkey's Interbank Card Center (BKM) has shown that Arab tourists to Turkey are on the rise compared with previous years before.
The study showed that transactions in Turkey by foreigners in general was up 35 percent in the first half of the year compared with the same period last year, with Arab tourists representing a large number of the increase in tourists.
Soner Canko, general manager of BKM, said: "A few years ago, the total volume of transactions through foreign credit cards was really small in Turkey. It has risen thanks to Arab tourists who have chosen Turkey as a holiday and shopping destination in the region." Canko said that the total amount of foreign transactions in Turkey had reached $2.3 billion in the first half of the year.
Canko said that the recent changes and unrest in the Middle East had led to more Arabs travelling to Turkey and spending money in Turkey. He said that the total number of tourists to Turkey had increased by 14.6 percent in the first five months of the year compared with the same period last year. Tourists from Arab nations such as Yemen were up 87 percent while tourists from Saudi Arabia were up 79.3 percent and tourists from Iraq were up 45.84 percent.
With more tourists visiting Turkey and experiencing the culture of Turkey, it is inevitable that property sales in Turkey will increase with the increase of foreigners to the country. Arab tourists are looking to the safe haven of Turkey instead of the unrest and political worries that previous favourite countries of Arabs now suffer.