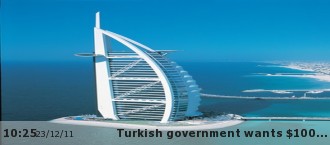 Turkey's Minister of Industry, Science and Technology, Nihat Ergun has said that Turkey aims to increase mutual trade with Arab nations to $100 billion per annum within the next five years.
Speaking during a conference on Turkish-Arab relations in Istanbul, Ergun said that the current $33 billion trade between Turkey and the Arab world was not enough. Ergun said that regional solidarity was very important to both sides as there were many benefits to be had for both sides.
The conference in Istanbul saw representatives from businesses from both sides come together and discuss future partnerships and agreements together. Ergun said: "We are aware that industrial investments are very important for economic prosperity. Ninety-two percent of our exported goods are industrial products and we could use this potential in increasing mutual trade with the Arab world."
Discussing Turkey's plans for their own future, Ergun said: "Turkey has set a 2023 vision and aspires to become one of the world's 10 largest economies by this year. Our government places extra importance on innovation and research and development investments." The Minister said that Turkey was ready to share experience and knowledge with Arab nations in a bid to aid further development and growth.