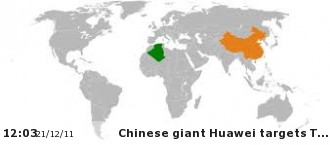 Chinese network solutions provider Huawei has announced that Turkey will act as the regional centre for Huawei's global plans to become the top supplier of smart phones and tablet PCs in the future.
Huawei also outlined their aims for growth in the future; the company is already a key equipment producer for the world's largest wireless network operators – the company aims to expand the producing and manufacturing of their own branded handsets.
A Huawei executive said: "Huawei has long term plans involving Turkey, which the company considers to be a hub. Our research and development centre in Istanbul stands as proof for Turkey's significance in our future plans."
Huawei is currently the solutions provider for more than 100 companies in Turkey, including Turkcell, Vodafone, and Turk Telekom. The executive said: "Huawei's near term goals include becoming one of the top three producers of smartphones and a leader in home communication technologies."
The relationship between Huawei and Turkey is also set to extend further. Huawei is interested in becoming a partner in the Turkish education Fatih project. As part of this project, Turkey plans to give 15 million students a tablet PC as part of the modernisation of education in Turkey.
Huawei is one of the biggest companies in the world for modern technology, you may not have heard of Huawei but you most certainly use technology with integrated Huawei equipment. Turkey is a continuing growing and developing nation with targets to become one of the top 10 economies in the world in the future, Huawei and Turkey can look to a bright partnership together.