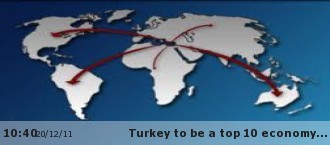 United States Vice President Joe Biden has said that Turkey should be one the world's top 10 economies by 2023 should the nation keep going at the impressive rate that they are currently.
Speaking during a visit to Turkey, the Vice President addressed a group of businesspeople at the second Global Entrepreneurship Summit in Istanbul. Biden said: "The next Steve Jobs may well be a Turk."
Biden went on: "I was not surprised to hear our Ambassador to Ankara saying that the next Steve Jobs may be from Turkey. He might even be among us here. Turkey has a serious potential in talent and entrepreneurship."
Biden heavily praised the economic situation in Turkey and the achievements and development that Turkey had undertaken in the last decade – tripling the size of the Turkish economy, increasing per capita income, and increasingly record breaking exports.
According to Biden, Turkey is currently one of the key economies in the world and is on course to reach the target of being a top 10 economy in the world by 2023 – the centennial of the Republic.