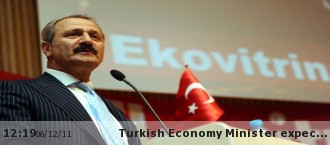 Turkey's Minister of Economy, Zafer Caglayan has stated that Turkey's annual exports are set to break records in 2011.
Caglayan said that exports for the current year have already topped more than 100 billion USD as of October 3rd. Cagayan said: "Turkey's place among nations with over USD 100 billion worth of exports is well established." Turkey first hit over 100 billion in exports in 2007 and have gone from strength to strength ever since.
Caglayan also said that he expected the year end figure of Turkish exports to be around 135 billion USD, a new record beating the previous record of 132 billion USD and exceeding the governments Medium-Term Program estimate of 125 billion USD.
The sectors that improved most in Turkish exports was the: automotive, chemicals, ready-wear, and iron-steel industries that was responsible for more than half of the 100 billion USD worth of exports recorded by Turkey in the first nine months of the year.