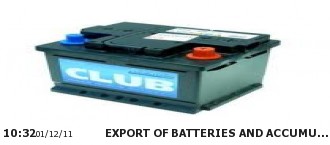 If Batteries and Accumulators declared as in Free Circulation on the A.TR document, do not originate in European Union countries, these products may be subject to product safety control at the time of importation. For a list of these Batteries and Accumulators categories see the list below. You can find more information about British export and Turkish import procedures for Batteries and Accumulators exports to Turkey in this section and from the 'Circular 2009/15' link for the Supporting Document at the end of the page.
TURKISH CUSTOMS PROCEDURE
Testers and personal goods: Customs will permit testers and personal Protective Equipment and goods
Letter of Conformity Customs will allow these goods if accompanied by a Letter of Conformity or a letter attesting that the goods do not fall under the scope of the protocol. Customs will not allow these goods accompanied by a letter of non-conformity
These Goods originating in EU Customs will not require a letter of conformity or a letter of outside-the-scope if the goods shown on the A.TR are declared as originating in European Union member countries.
WHAT THE BRITISH EXPORTER MUST DO:
If the Batteries and Accumulators whose customs codes are listed below in Table 1 and 2 originate in the European Union member countries and if ATR document is used for this purpose, the UK exporter should contact the TBCCI (Turkish British Chamber of Commerce and Industry).

The TBCCI can provide documentation and certification services
for the ATR and Certificate of Origin, and also arrange for the Turkish Consulate legalisation of the Certificate of Origin. You can contact us on 020 7321 0999 or at info@tbcci.org

For information about ATR and Certificate of Origin and the related TBCCI services, please visit our website at
TBCCI ATR Certification
TBCCI Certificate of Origin Certification

If the Batteries and Accumulators whose customs codes are listed below do not originate in the European Union member countries, unless the above mentioned Letter of Conformity is provided, Turkish Customs will implement the testing and control of these goods at the time of importation

Contact TBCCI: 020 7321 0999 / info@tbcci.org

Customs Codes Applicable to this Batteries and Accumulators Export Procedure