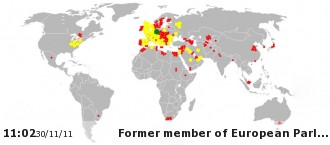 A former member of the Turkey-EU joint parliamentary commission has stated that Turkey should forget about the EU and focus more on things that are right for Turkey.
Richard Balfe who was a member of the European Parliament for more than 25 years, said: "Turkey should make clear its interest to the EU and should look for a partnership, not for a supplicant." Balfe went on: "Turkey should not always be saying 'please be kind to us.' Because actually the EU has too many problems and it will not be too many years before the EU is asking Turkey to join it."
Balfe was in Istanbul at the time, said that he would be surprised if the EU had not asked Turkey to join within the next ten years, he said: "Afterall, Turkey has a much younger population profile than most of Europe. And it is a dynamic country. I often am asking in Britain, 'Who else is going to pay for my pension if we do not let the Turks in?'"
The former member of the European Parliament also said that he feels that Turkey has been dealt with unfairly by the EU. He said that countries much weaker economically and in terms of human and social rights had been allowed in to the EU. Balfe said: "If you look at Latvia, you have got a country with a large minority population of Russians who are denied all civil and political rights. So, suddenly the EU realised it has some countries that are fundamentally a long way behind Turkey. Even the EU has to stop occasionally and think how far hypocrisy can go."
The negotiations between Turkey and the EU for Turkey to become a member of the European Union have seemingly hit a standstill. It has been said that the strong position that Turkey now finds itself in economically will lead to the EU inviting Turkey to strengthen the weakened Eurozone.